Heart of Kansas Camp
Heart of Kansas Camp is planned for June 21-24, 2021 at Rock Springs 4-H Center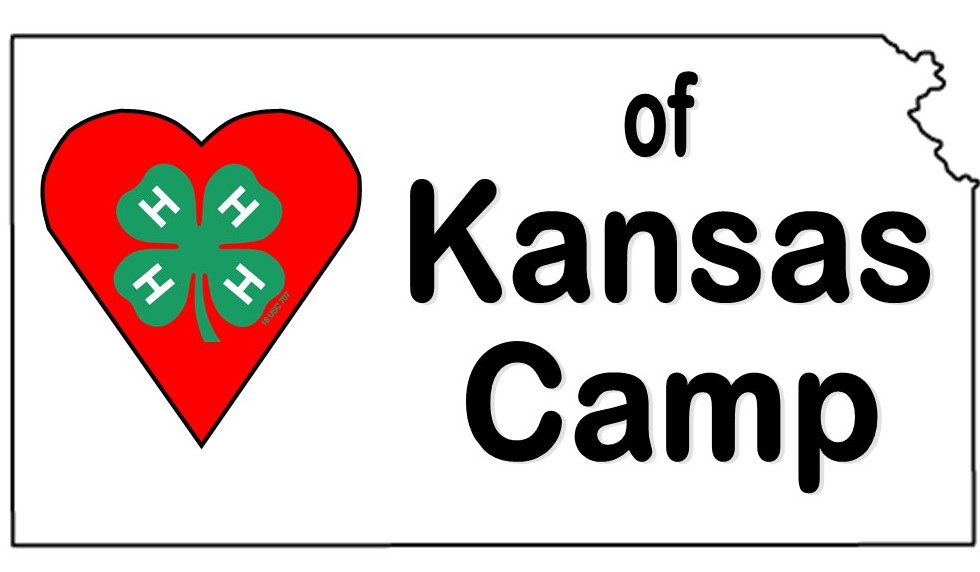 The Heart of Kansas 4-H Camp is a four day and three night fun-filled, learning experience for children who have completed 3rd-8th grades. Kansas youth from Baber, Edwards, Ford, Gray, Kingman, Meade, Pawnee, Pratt, Stafford Counties and Cottonwood, Midway, Walnut Creek, West Plains and Wild West Districts will all camp together at the Heart of Kansas Camp. Held at Rock Springs 4-H Center, activities typically include:
Activities include canoeing, horseback riding, swimming, archery, air rifle, nature centers, and crafts.
Workshops include fishing, water games, line dancing, weaving, compass course, and rocketry.
Highlights include camp fire, night swim, scavenger hunt, night hikes and more!
** Some activities will not occur due to COVID-19 KSRE and Rock Springs 4-H Center Policies and Procedures.
Registration and Fees
The total cost for camp is $215. Ford County 4-H Camper Fees are $140 per 4-H Member. This fee includes scholarships from the Ford County 4-H County and the Ford County 4-H Foundation deducted from the original cost of $215. Camp fees include travel to and from Rock Springs 4-H Center, lodging, meals, nurse, adult supervision, special programs and use of Rocks Springs facilities for 4 days and 3 nights. To register, click here.
Registration is due April 30, 2021 to the Ford County Extension Office. Space is limited. Registration is on a first come, first serve basis. Your registration and check must be at the Extension Office to secure a camp spot.
Mask Requirement
In accordance with Kansas State Research and Extension, Kansas 4-H and Rock Springs Ranch COVID-19 Guidelines, all Heart of Kansas Camp participants will be required to wear masks for indoor and outdoor activities. The only exceptions for no masks as while eating, sleeping, swimming or within housing room. Campers are requested to bring 7 masks with them to camp.
Transportation
A transportation fee of $10 per participant will be added to camp fees for trips that require travel, by vehicle provided by the Ford County Extension Office, outside of Ford County.
** Families MAY be responsible for transporting their camper to and from Rock Springs. More information will be provided at a later date.
Rock Springs 4-H Center
Rock Springs Ranch is owned and operated by the Kansas 4-H Foundation. Located in the heart of the Kansas Flint Hills, off Interstate I-70, the facilities are 13 miles south of Junction City.
With 735 acres of tall grass prairie and rolling hills, Rock Springs Ranch is nestled in a valley surrounded by creeks and woodlands. The camp provides cabins with bunk beds, bathroom facilities and common living areas; allowing groups of 6-8 campers to live and learn together while under the supervision of two trained counselors. Cooks are on staff to provide hearty home-cooked meals, from chicken fingers to pulled pork. With their famous dinner rolls, campers will not go hungry while away from home. The Rock Springs Ranch also has registered nurses on staff to distribute any medications, as well as oversee the treatment of any illnesses or accidents that may occur.