Ceramics Camp
Show off your creative side at the Ceramics Camp!
4-H'ers ages 8 and older will master the dry brush and antiquing techniques.
Youth will select a morning or afternoon session and attend camp on Monday & Tuesday at their selected time.
At the end of the camp, youth will have a completed project ready for the Ford County Fair!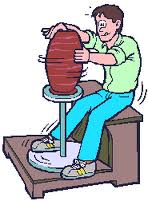 Ceramics Camp will be Monday, June 12th and Tuesday, June 13th
9am-12pm or 1pm-4pm
Camp will be in the Ceramics Building at the YMCA
Cost is $25 per 4-H'er
Space is limited to 10 campers for each session!