Welcome to Ford County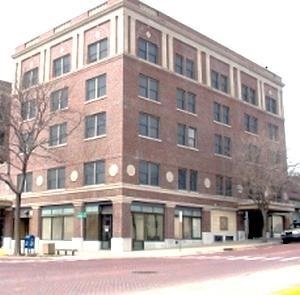 Upcoming Events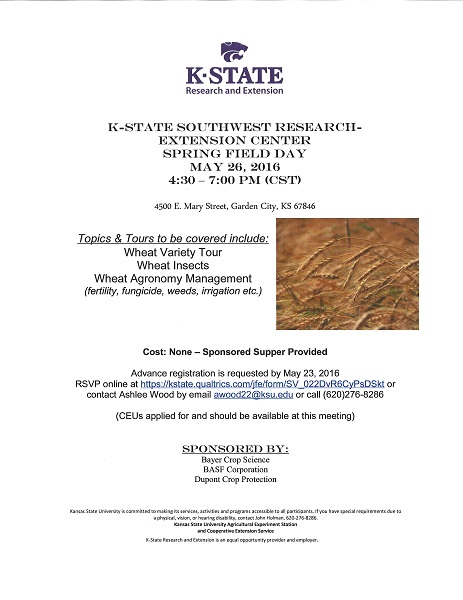 Latest News
Stripe Rust Alert!
The recent rains across Kansas will be beneficial to the wheat crop, but will also increase stripe rust activity on wheat. Stripe rust was already established at low levels in many areas of Kansas and the recent rainfall greatly increases the risk that the disease will move to the upper leaves soon. This movement to the upper leaves is important because they contribute most of the energy used by the plant to make grain. The disease has already reached the upper leaves in many fields in the southeast region of the state, which received more rain this week.
Distribution of Wheat Stripe Rust - As of April 22, 2016
Reports of wheat stripe rust continued to roll in this week. The disease was already established in many part of south central and southeast Kansas. Strip rust has moved to the upper in some fields within these regions now. The other key update comes from western Kansas where the disease was reported at low levels this week. The first reports came from irrigated fields but a few dryland fields were subsequently found to have stripe rust also.
It is still important to monitor for disease regularly. Fields planted to varieties susceptible to stripe rust should be scouted closely until the wheat is past the stage at which fungicides can be applied - which is flowering for most fungicides.
In some areas of southeast and south central Kansas, stripe rust had already infected the flag leaf. Where stripe rust is currently present on the flag leaves at low levels and most of the leaf's green area is still intact, a fungicide application will still be beneficial in most cases. There is a point of diminishing return however. If the disease has already destroyed more than 25% of the upper leaves, the crop will be less likely to benefit fully from the fungicide application. In this case, the disease has already damaged a good portion of the leaf area and has likely already begun to infect much of the remaining green tissue. The remaining green tissue may still die even after the fungus has been suppressed by the fungicide.
In short, we are headed for trouble with stripe rust. Growers should be checking fields and be ready to spray when weather allows. Wheat farmers have a lot of fungicide options to chose from although product availability may vary regionally in the state. Most of the products are rated very good to excellent on strip rust. In general, the largest reductions in disease severity and greatest increases in wheat yield or grain quality occur when fungicides are applied between full extension of the flag leaves and anthesis (when the male flower parts have just begun to emerge). Applications intended for the management of glume blotch or head scab should be made between the beginning of anthesis and 50% flowering. Always consult the product label for specific growth stage restrictions and preharvest intervals (PHI) before making fungicide application.