Wildfire Preparedness
The fire season is a year-round reality, requiring firefighters and residents to be ready for the threat of wildland fire.
Each year, wildland fires consume hundreds acres. Fire is, and always has been, a natural occurrence in wildland. Wildland fires are fueled by a build-up of dry vegetation and driven by seasonal hot and dry winds, which are extremely dangerous and difficult to control. Successfully preparing for a wildland fire enables to you to take personal responsibility for protecting yourself, your family and your property.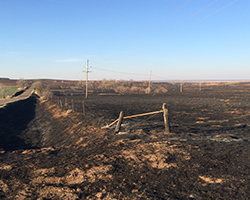 It is not a question of IF,
but WHEN, the next major wildfire will occur.
Both lighting and human-caused fires have shaped the grassland ecosystem for thousands of years. Fire is an important part of maintaining healthy, diverse rangelands in Kansas. Grasslands are inherently prone to fire, and wildfires should be expected. Eastern red cedar, a native but formerly localized tree, has spread across the grasslands, producing fires that are more difficult to control.
Fire protection in Kansas is largely provided by volunteer fire departments. During busy fire seasons, the work load can become very heavy for so few people. As the rural population of Kansas ages, there are fewer people to staff the fire departments. A large fire occurs, fire departments in adjoining districts and counties will be called in.
Grass fires move very quickly compared to forest fires. Slight changes in humidity are nearly instantaneously reflected in fire behavior. It is important that communities and individuals be prepared for rapidly moving wildfires. Prescribed fires can be used to reduce fuel loads. Redcedar can be controlled to reduce embers that start new fire locations during a wildfire.
Landowners are encouraged to attend burn workshops, which are typically held around the state each year to improve their burning skills. Groups of landowners can form Burn Associations to help each other burn their property safely and share equipment and crew.