What are Pesticides?
A pesticide is a substance or mixture intended to prevent, control, destroy, repel or attack a pest. technically, a pesticide is something used to kill pests. Plant regulators, dessicants, defoliants and disinfectants are also considered to be pesticides. Pesticides that are commonly used include herbicides, insecticides, fungicides, rodenticides, nematicides and various others.
One way to view this definition is to ask, does the product claim to control a pest? If a company or individual claims a product will control a pest, then it is a pesticide.
The Environmental Protection Agency classifies pesticides as either general use or restricted use. Restricted use pesticides may be purchased and applied only by or under the direct supervision of trained and certified applicators.
Why Do I Need Private Applicator Certification?
The Environmental Protection Agency (EPA) requires pesticide applicator certification for persons purchasing or using restricted-use pesticides (RUP). The regulation can be found under the Federal Insecticide, Fungicide and Rodenticide Act (FIFRA) Part 171. This act provides the states with minimum and federal standards from which to create their own state specific regulations. In Kansas, pesticide applicators are required to be certified if they purchase or use a restricted use pesticide (RUP), unless they are under the supervision of a certified applicator. In order to be eligible for commercial certification, an individual must be eighteen years of age or older. Commercial certification is also required to start a pesticide business.
A certification and/or pocket card is issued to each person who satisfactorily completes the requirements for certification. It is important to be able to produce the certificate or pocket card when requested to do so by a customer, law enforcement official or the Secretary or a Kansas Department of Agriculture employee.
There is More than 1 Type of Certificate?
Private Applicator
A private applicator is defined in the Kansas Pesticide Law as an applicator who uses or supervises the use of any pesticide, which is classified as restricted use for the purposes of producing any agricultural commodity, (A) on property owned or rented by such person or such person's employer or (B) if applied without compensation other than trading personal services between producers of agricultural commodities, on the property of another person.
Agricultural commodities can include cattle, equine, greenhouse, nursery, fruit, vegetables and row crops. Private applicator certification does not allow an individual to apply pesticides or use restricted use products in non-agricultural areas. Example: Purchasing a termiticide or a herbicide for right-of-way use.
Private applicator certification expires on the individual's birthday in the fifth calendar year after it was issued. A renewal test and application are mailed to the applicator's home address approximately a month before their birthday.
Commercial Applicator
A commercial applicator is referred to as an applicator, whether or not a private applicator with respect to some uses, who uses or supervises the use of any pesticide, which is classified as restricted use for any purpose or on any property for compensation. A commercial applicator can be actively engaged in the advertisement of services, making recommendations for product use, the preparation of the application, and the actual application of the pesticide. A commercial applicator must be certified in the appropriate category for the type of application.
Applicants must pass the general examination and a category/subcategory examination to become certified. The commercial applicator certification expires every three years.
Registered Technician
Every pesticide business that applies pesticide for control of wood-destroying (7A), structural (7E), ornamental (3A), turf (3B), or interior landscape (3C) pests and who employs uncertified applicators is required by the Kansas Pesticide Law to have a registered technician training program.
A registered technician must complete 10 hours of classroom training and 30 hours of on-the-job training within 90 days of their employment.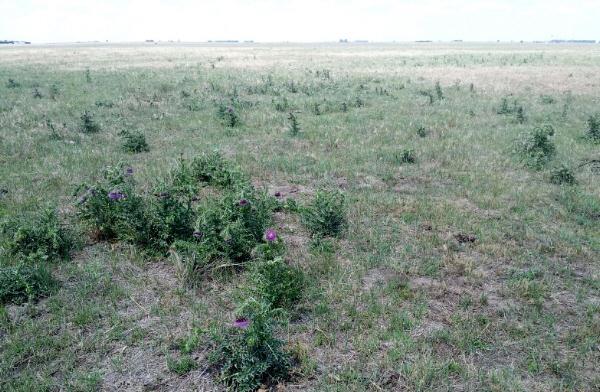 A pasture of recently sprayed musk thistle, which spreads rapidly and can easily take over grassland if not controlled.