Ford County
Located in Southwest Kansas, Ford County was created by the Legislative Act of 1867. Named in honor of Colonel James H. Ford, the county is divided by the Arkansas River. During the late 1850s thru 1860s, much wagon traffic crossed the area via the Santa Fe Trail leading to the establishment of Fort Dodge for protection of travelers and cargo. The Fort also saw action during the Indian Wars of the late 1800s. Fort Dodge is still in existence and serves today as the Kansas State Soldiers Home, a retirement village for retired military men and women.
Buffalo hunters and various businesses were drawn to Ford County and the newly established Dodge City with the coming of the Atchison, Topeka and Santa Fe Railroad in 1872. After the extermination of much of the buffalo herds, Ford County next served as the end of the line for the Texas cattle trails. Dodge City served several years as the Queen of the Cowtown and shipping point for Texas Longhorn Cattle east. After the Kansas Legislature banned the transportation of Texas cattle into Kansas for shipment, Ford County became populated with industrious farmers and ranchers who established permanent homesteads, farms and ranches, while also creating small communities spread around the counties. The following is a map of Ford County from 1889.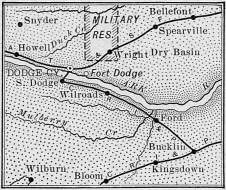 By the turn of the century, Ford County sported almost 5,500 people. During the next decades the county would see tremendous growth as its population more than doubled. Along with its farming and ranching, Ford county also held good sandstone, limestone and gypsum. Area industry and services also expanded to include over 90 miles of railroad tracks within the county, several flour mills, machine shops, ice plans and more.
During the 1930s, Ford County, like others in Western Kansas, experience severe drought conditions that led to the dust bowl days and both local and national economic depressions. Though many Ford County residents stayed, a great many others left the area hoping for better times away from the Great Plains; thus reducing the county's population.
But, Ford County recovered, diversified and evolved it interests and business. Today, the county supports a population of 33,000 people. According to the most recent U.S. Census Bureau report, Ford County has a total area of 1,099 square miles, with 1,098 square miles being land and 0,8 square mile being water.