Ford County Extension Appreciation Award
The Extension Council Appreciation Award is presented to an individual, couple or organization who has given a considerable amount of extra effort in support of the Extension Council education programs. In many cases their hard work and dedication has lightened the load for the Extension Service personnel, in addition to making the Extension Councils efforts more effective. The success of Extension programs depends on the unselfish energy of such people who have spent considerable time supporting our endeavors for no monetary rewards. Their service and support are greatly appreciated.
2020 Extension Appreciation Award Winners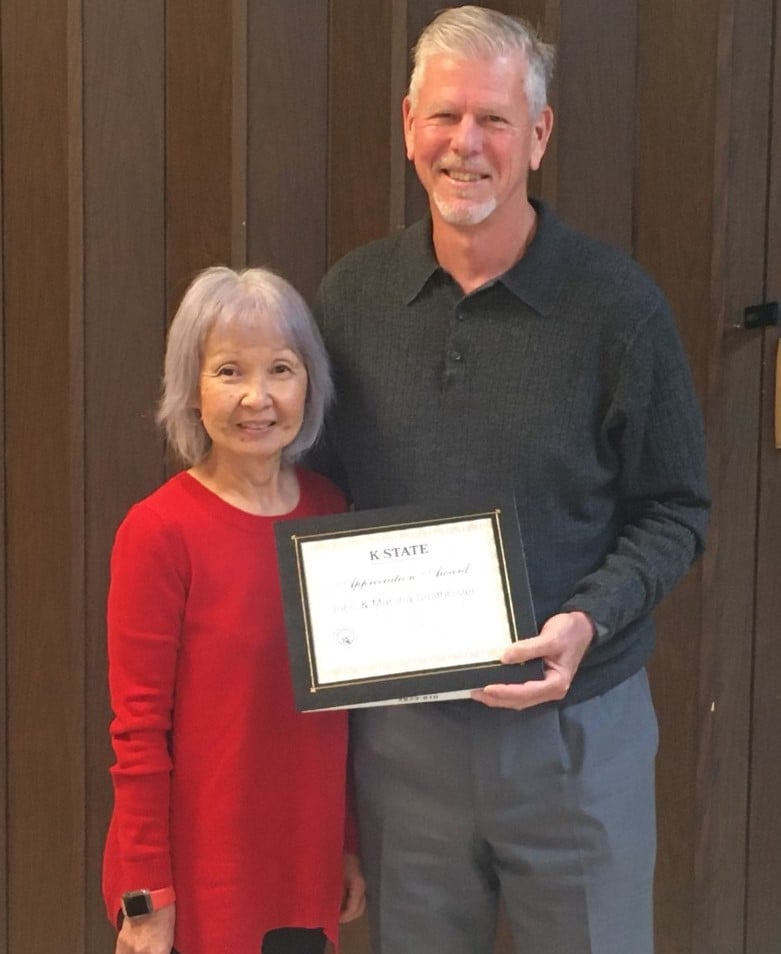 John & Marsha Smithhisler
The 2020 recipients of the Ford County Extension Appreciation Award was presented to John and Marsha Smithhisler of Dodge City at the Annual Meeting on November 13th.

John Smithhisler became a member of the Ford County Extension Executive Board in 2013 having been elected as member of the Community Vitality Program Development Committee (PDC). During his three years as Chairperson, John became a champion for Extension and one of our biggest promoters. It was not unusual to get a phone call from a client that said "John Smithhisler told me I should call you guys." John learned about all the services that Extension had to offer, such as crochet patterns, foods questions, horticulture advice - specifically on keeping his office plants alive and assisting farmers with the Farm Bill. John was key in working with the Ford County Administrator for funding issues while he was chair.

Prior to his retirement in September, John worked for Fidelity State Bank for just over 20 years and Marsha as an office professional for Sacred Heart School. Marsha was a supporter of the Extension programs and the work we do in the schools, especially Sacred Heart. From sunflower presentations every spring to nutrition classes, to National 4-H Week presentations in October, Marsha always greeted us with a smile and a kind word!

John and Marsha also graciously presented a program on Hawaii to 4 Clover Campers and have helped promote all Extension events in Ford County. They have three grown children. Best wishes to both of you in your retirement and thank you!

The Ford County Extension Council is honored to recognize John and Marsha Smithhisler for their support of Extension. We appreciate their dedication and support of the work we do in Ford County.
Previous Extension Appreciation Award Winners
1977 - Rhuy Lewis
1978 - Don and Sylvia Miller
1979 - Paul and Elneanora Glenn
1980 - Allen Starosta
1981 - Vernon and Mary Lou Agur
1982 - Marvin Lunquist
1983 - Kathryn Sughrue
1984 - Myron & Nobuko Nicholson
1985 - Patty Owens
1986 - Joe Berkely
1987 - David and Althea White
1988 - Leon and Maureen Flax
1989 - Charles and Rita Venters
1990 - Gerald and Dianna Schmitt
1991 - Rollie and Mary Stukenholtz
1992 - Richard and Thelma Maxwell
1993 - Val and Norma Henton
1994 - Doug and Karen ring
1995 - Alexis Wallis
1996 - Leon and Pat Vogel
1997 - Western Beverage Inc.
1998 - Pat and Dean Hessman
1999 - Shirley Blake
2000 - Anna Dirks
2001 - Don and Donitta Wiles
2002 - Doug and Karen Ring
2003 - Nancy Jo Kent
2004 - Fidelity State Bank
2005 - Norman and Donna Kennedy
2006 - Mary Jane Stramel
2007 - Gerard Lix
2008 - Mary Lett
2009 - Victory Electric Cooperative
2010 - Waters True Value
2011 - Ron and Mary O'Hanlon
2012 - Roxanne Hornberger, Dodge City Senior Center
2013 - Kyle and Stacie Nichols and Janice and Earl Unruh
2014 - Leonard Hoskinson
2015 - Marvin and Floris Jean Hampton
2016 - Joe Gleason
2017 - Jean Ann Melia
2018 - Bill and Karen Hawley
2019 - Jeff and Lisa Rumbaugh and Tractor Supply